Availability:&nbsp&nbsp&nbsp&nbsp 32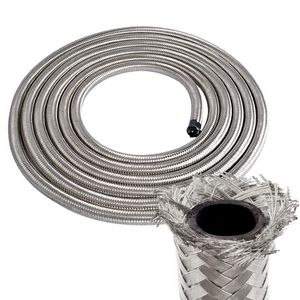 Stainless steel braided synthetic rubber hose. Perfect to build your custom hoses with our swivel hose ends.
The length is by the foot and is a continuous line unless asked by customer.

To buy 5 feet of hose select the size you want and put 5 in the quantity and click on Add to cart button.
| | |
| --- | --- |
| AN Size | Hose size |
| -4 | 1/4" |
| -6 | 3/8" |
| -8 | 1/2" |
| -10 | 5/8" |
| -12 | 3/4" |
| -16 | 1" |
| -20 | 1 1/8" |
Size

Hose I.D

Hose O.D

Working Pressure

Burst Pressure

Temperature Range

Minimum Bend Radius

mm

mm

Mpa

Mpa

Min

Max

mm

AN4

5.56

11.13

10.3

41

-40

150

50.8

AN6

8.73

13.89

10.3

41

-40

150

63.5

AN8

11.12

16.28

10.3

41

-40

150

88.9

AN10

14.27

20.24

8.6

35

-40

150

101.6

AN12

17.47

23.82

7

28

-40

150

114.3

AN16

22.22

29.36

5.2

21

-40

150

139.7