Availability:&nbsp&nbsp&nbsp&nbsp 2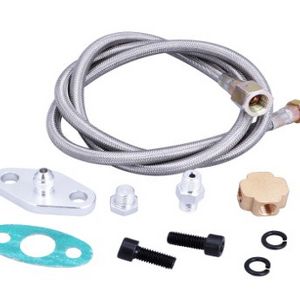 Universal kit for turbo oil inlet. The kit comes with the following components:
1 x 4 Way Thought 1/8th NPT Adaptor
1 x 2 Bolt Flange With AN4 Hose Fitting
1 x Turbo Oil Feed Gasket - 38mm Bolt Spacing
1 x 1/8th NPT Male To Male Adaptor
2 x M18 Bolts
1 x AN4-1/8th NPT Braided Hose (Approx 108cm Long)
1 x 1/8th NPT Blanking Plug
The kit fits perfectly with our oil sandwich adaptor plate:
Thank you for your review. It has been submitted to the admin for approval.
There are no reviews for the product
Related Products